Friday night Jenna and Ruby arrived. We visited for a little bit and then hit the sack. Saturday morning we woke up and then Jenna, Ruby, Chad, Tyler and I went to The Family House for breakfast and had an awesome, although too big, breakfast! We then dropped of Chad and Tyler so that us girls could get pedicures. It was awesome and we were done in just enough time so that we could come home, change and head to my baby shower. My friend Kate threw the shower and it was so much fun. I love having so many friends together and what better reason to celebrate than this new life! After the shower Jenna and Ruby headed to meet up with a friend and experience some more of San Diego. Tim, Megan, Ryan and Noah came over for dinner and Chad grilled up some amazing steaks. We talked, watched UFC and enjoyed a great time together. After church today Chad and I came home to find Ruby and Jenna making an amazing Filipino feast!! We dined on Lumpia, Chicken Adobo and Poncit. It was fabulous. After lunch Chad and Jenna both fell asleep so Ruby and I played in the driveway with Tyler and visited with our new neighbors. We then woke up the sleepheads, and all took a walk for some ice cream at the little shop not too far from us. On the way home we stopped by the Bazaar at the Catholic church and then made it home in time for Tyler to eat some dinner and go to sleep. The girls headed back about 8:30 or so. It was so much fun to have them here for the weekend!!

Jenna, me, Ruby



Shower goodies - my friend Darlene made this nice display!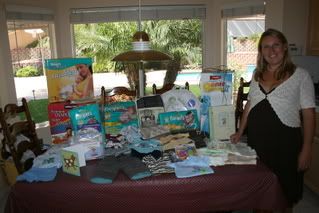 A fun game



The wonderful group that celebrated with me!



Jenna preparing the feast!



Ready to eat!



Great food, even better company!