I haven't been great about blogging recently. We are doing good, keeping really busy. I worked on Thursday this week and Tanner and I had a lot of fun with the kindergarten class. We had a swim team fundraiser at Corvette Diner (a 50's diner) on Wednesday and we had a lot of fun doing that. Chad and I went out to an early Valentine's Day dinner on Thursday night to avoid the crowds.
Both boys are on the upswing of having colds. Tyler was pretty miserable for a few days but he is (almost) back to his regular self. Tanner didn't get it as bad but still enough to be uncomfortable. The good news is is that 95% of the time he is sleeping through the night. Yeah! We are wanting to move the boys in together to share a room. Maybe we will do that today....
I started a bootcamp on Monday. It is Monday, Wednesday and Friday mornings at 5:45 am. It is really hard to get out of bed but once I am down at the beach and working out it gets easier. I love it. It is with a personal trainer, 3 days a week for 6 weeks. She does 7 of them throughout the year. She also tests our body fat and does nutritonal counseling with each person. Definately worth it! It is nice to have the day started and a workout done before 7 am!
And here are some random pictures:

Bedtime story time with daddy: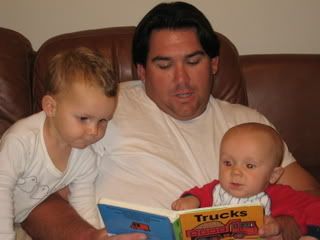 Check out Tanner's old man face: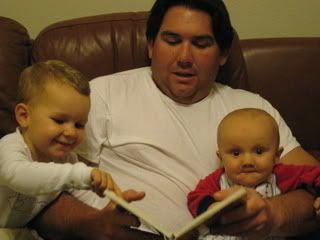 No more baby tub!



Thrilled to have daddy changing him and getting him dressed :)



My snake (or was he a tiger that day?)



Silly boys