The "pumpkin patch" that we took the boys too is really just a section of a parking lot of the mall. They throw down some hay, put out some pumpkins, set up rides and slides and voila, pumpkin patch! No need for boots here! The boys love it and we have already gone a handful of times. If you go during the day it is dead and you can get a ticket for $3 for them to ride the slide as many times as they want. It wears them out.

Pumpkin boys (yep, still sunny, still in t-shirts)



Pretty sure Tyler is tasting the hay in this picture. Nice.



Tyler Scarecrow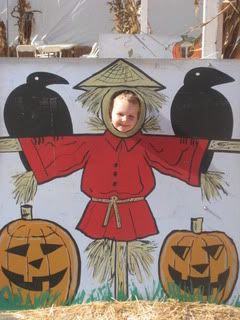 Tanner Scarecrow



More pumpkins (I really could not get a good shot of them together)



Quarter rides. They LOVE these.