Tyler is really into playdough these days. He will sit outside at his table for a looonnngg time just cutting, rolling, pushing and making things. So, we decided to make our own playdough. I let him pick his koolaid flavor (that was how we colored it) and then we made some. It was super easy and a fun activity. The only thing I would suggest would be getting some cheap flour and not using your organic whole wheat white flour for the task :) Now he wants to make orange, yellow and blue. Looks like we will be making lots more playdough in the days to come!

He takes his job very seriously.



Tanner is supervising.



Tanner is really thinking he may like to eat this.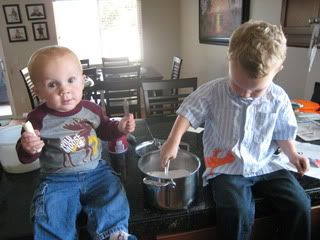 Keep on stirring (and Tanner eats his spoon).



Tanner giving it a try.



Finished product!