We went with Tim, Megan, Ryan and Noah to Seaworld on Friday. We met for some fish tacos at Wahoos and then off to Seaworld. They boys had a blast together. We saw the shark and sealions and then Tim and Chad went and rode the roller coaster ride. They didn't get too wet. We spent some time in the Sesame Street Bay of Play and then ended the night with the Shamu show followed by the fireworks. We all went home happy but exhausted. Such fun to have good friends to share life with!




They all wanted to ride in the same stroller.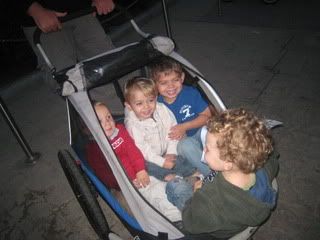 Waiting for their daddy to come down the big hill and make a splash!